ThL W200S – is a popular upgrade to last year's model ThL W200. Key trends upgrade an 8-core processor MT6592. Also, the new model has an improved display, more internal memory and battery capacity slightly better. Design and other characteristics remain unchanged.
Features Thl W200S:
| | |
| --- | --- |
| Operating system | Android 4.2.2 |
| Screen | 5-inch IPS display with a resolution of 1280×720 pixels, Gorilla Glass 3 |
| Processor | 8-core processor with MTK6582 1.7 GHz |
| Graphics processor | Mali-450MP4 |
| Random access memory (RAM) | 1 GB |
| Built-in Memory (ROM) | 32 GB, support for memory cards MicroSD |
| Camera | The rear camera 8 MP, autofocus, LED-lights5 megapixel front camera |
| Wireless Technologies | 3G, Wi-Fi, Bluetooth, GPS / A-GPS |
| Network | Two SIM (WCDMA + GSM) |
| Connectors | MicroUSB 2.0 OTG, Headphone port 3.5 mm |
| Case | Plastic |
| Battery | 2000 mAh |
| Dimensions | 141,5 x 71 x 9,3 mm |
| Weight | 151 g |
| Average price in China | $ 200 |
It should be noted that in our area ThL W200 model has become very popular. Such popularity is the result of tempting ratio low price and attractive features. Probably the updated model  will continue the success of ThL W200S predecessor, because it  is better, and the price difference between them is minimal.
Options
Thl W200S with accessories packed in the usual box of cardboard no frills design. Everything is simple and reliable.
Traditionally all smartphones are with ThL grade accessories bundle.
· Smartphone
· USB-cable
· Charger unit (1A)
· Headset
· Cover
· Protective film
· One battery
· Documentation
A little unexpected, but in this kit only one battery, usually two of them. Most likely, it depends on the seller. Capacity of 2000 mAh (ThL W200 – 1800 mAh).
Headset is budget class, suitable for voice communication, but for music you should better find something more decent.
Case is made of thin translucent plastic. Excellent accessory rests on a smartphone and almost does not increase its size. But the material is brittle, so more careful with it better, and then inadvertently burst.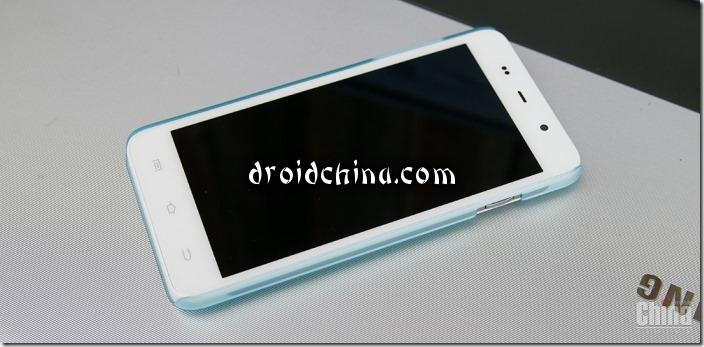 Design
Externally, the updated model is no different than from its predecessor, the same classic piece of plastic. Sales model is presented in two versions – black and white, in this case – white.
ThL W200S fairly compact smartphone that fits the hand. Dimensions – 141,5 x 71 x 9,3 mm. While 9.3 mm – it is at its thickest point,  in the middle . On the sides it is thinner. Weight felt, but can not be called a heavy smartphone – 151 grams.
At the top of the front panel provides light sensors, proximity, LED events, voice speaker and front camera 5 megapixel.
Below three touch-sensitive keys with a distinct pattern of gray.
There are lights and vibration. The backlight is not a typical color – blue. As for me, the traditional white or yellow better blue seen worse, and the ugly.
Visually, it may seem that the smartphone is made of opaque plastic, but it is not. The most common plastic, no soft touch, to the best of Mark and little slips.
Module rear camera sticks out a little, but just a little. LED next to the camera, the power is weak.
One external speaker, volume average, the quality of the most common smartphone of this class.
On the sides of ThL W200S equipped decorative plates that mimic well-metal (or maybe it is metal). Volume control wheel and power button are carried on different side ends, but unlike decorative plates, they do not exactly made of metal – it's plastic. The buttons good press is convenient, but there is a small gap.
Standard audio and microUSB connector located on the top end. MicroUSB c support OTG.
At the bottom there is only visible space for removing the cover. Also hidden microphone.
The cap is not as easy as we would like, but is tight and without gaps. Under the hood is three slots – two for full-size SIM and one for microSD memory cards.
If, for example, compare the build quality ThL W200S with Xiaomi Red Rice, the latter is better, but in general, build quality of ThL W200S is also good.
Display
Like its predecessor, ThL W200S has 5-inch IPS display with a resolution of 1280 x 720 pixels. But new screen boasts Gorilla Glass 3, at least, so says the manufacturer. Also, now supports multi-touch up to 10 touches.
Screen impressions are good, clear picture and color saturation, brightness enough, maximum viewing angles. There is only one point – at angles picture dims a little, but the overall experience is not affected.
Performance
The main advantage of ThL W200S predecessor before – this is a new chipset Mediatek MT6592. In the configuration MT6592 includes eight cores CPU Cortex-A7 with 1.7 GHz and 4-core GPU Mali-450MP4. Thanks to this smart phone has received above average performance. In the Antutu  benchmark obtained a score of 27,491.
In addition to the chipset device equipped with 1 GB of RAM and 32 GB of ROM, while the latter can be increased by at least another 32 GB (rumored, ThL W200S supports memory cards up to 64 GB, but, unfortunately, not possible to verify) .
Network Connectivity
ThL W200S meets standards of mobile networks of second and third generation – 2G: GSM 850/900/1800/1900MHz and 3G: WCDMA 850/2100MHz. That is, in our area, all these performance standards. Number of SIM – two, but one radio module.Network sees perfectly. The volume and sound quality voice dynamics averages. As for the microphone, there was no complaints from the other side.
Technology Wi-Fi 802.11 b / g / n and Bluetooth also work flawlessly. For example, in an apartment Wi-Fi network can be clearly seen through several walls.
GPS with A-GPS. Navigation is standard for smartphone chip SoC MT6592. After a cold start to pinpoint satellites in seconds, though not as quick as that of counterparts chips from Qualcomm.
Battery
Battery capacity of 2000 mAh. Today, it is not much, but for a smartphone like this, it is normal. For some reason, ThL stubbornly continues to equip its new product is not the most powerful batteries.
Nevertheless, for a 5-inch HD smartphone based on MTK chip such battery capacity is quite enough for one day of active work or two – in economy mode (rare calls and browsing).
Camera
Antutu showed that both cameras have a resolution of 13 megapixels, but in fact the front camera is a 5 megapixel unit, and back – 8 megapixels. All that extra pixels are accomplished with software interpolation.
Functionality of front camera is minimal, there is only the standard scenarios and digital zoom. On the quality of its 5 megapixel it does not shine, but enough for video.
Rear camera is relatively better with autofocus and a much wider range of settings. In addition, for shooting at night or in poor lighting there is a LED-backlight, though its power even barely enough as flashlight. But in good light and successful perspective it can take a good picture.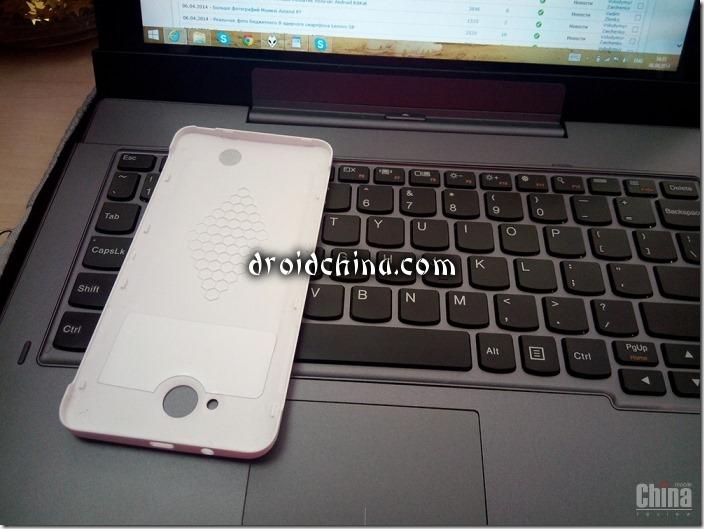 Original photo:  THL-W200S.rar [15.09 Mb] (Count: 6)
You can record video in standard 1080p:
Software
For the work of the smartphone operating system Android version 4.2.2. Chinese programs virtually no Russian language is represented.
By default there are all the most necessary programs included to start full operation, but if something is missing, then you can always use Google Play to install it later.
Overall the OS works fine, smooth animation, all very quickly, there is no hint on the brakes. Thanks to MT6592 chipset applications run quickly and are stable.
In general, a standard software of ThL, which is traditionally included, can be found almost in every "Chinese." phone or tablet. The advantage of this model over its competitors is the presence of a large community. W200S user will be much easier to solve any problems with your phone, whether it be questions about hardware or software, such as support for all kinds of drivers.
Output
Currently in China, the average price ThL W200S is about $ 200. For the money ThL offers a smartphone with a good 5-inch display, a nice design, above-average performance, support for two SIM, large internal memory and a microSD slot to extend. At the same time, the obvious shortcomings of the model are cameras, software, battery life, sound quality – all at an average level. If we compare with the previous model, the ThL W200S, of course, better. I think the difference in the $ 20 is justified.
Rating: ThL W200S
| | | |
| --- | --- | --- |
| Design | 7/10 | |
| Build Quality | 7/10 | |
| Ease of use | 8/10 | |
| Options | 8/10 | |
| Performance | 8/10 | |
| Display | 8/10 | |
| Camera | 7/10 | |
| Software | 7/10 | |
| Autonomy | 6/10 | |
| Functional | 7/10 | |
| Overall Rating | 7,3 / 10 | |
| | |
| --- | --- |
| Value | Limitations |
| Good display | Want higher battery capacity |
| High performance | |
| Two SIM-cards | |
| Attractive design | |
| A large amount of internal memory + microSD slot | |
| Low price | |