One of the most popular brands of mobile phones nowadays is the brand iPhone. But all the people who know the market of mobile phones know that iPhones are really expensive for an average person, where Chinese companies come scene to offer cheap clones of brand phones for who cannot afford the original. Our clone is called Thunderbird Golden i5s EX. Let's look closer at this model to find out what it offers us except it's similar look with iPhone 5S.
The operating system of Thunderbird Golden i5s EX is Android 4.2.2 OS with IOS 7.0 theme. Although physical and OS interface is similar to iPhone 5S, its hardware and build quality does not come near which explains the cheap price tag. Its processor is MTK6582 Quad Core 1.3 GHz. This mobile phone has 4.0-inch QHD IPS screen with 960*540 pixel display, 1GB RAM (System shows 2GB RAM) and 16GB ROM. The screen size is 4.0 inch QHD IPS touch screen. Thunderbird i5s EX has the metal frame and back case that makes this device strong and durable. One of the main features of this mobile phone is that it has the function of fingerprint unlock.
We all remember having rest at some resorts putting the door-plate with written words "Do Not Disturb". This smartphone has such a function. The function Do Not Disturb doesn't give your phone the possibility to disturb at the time you specify on your own. Great, isn't it? It also has support for Assistive Touch.
For the people who can't imagine their life without taking photos the inventors of Thunderbird i5s EX made two camera: from camera and back one. The rear camera allows you to make pictures using 8.0 megapixels while the front camera lets you to make them using 5.0 megapixels. The phone has Bluetooth and USB 2.0 connectivity with the lightening port.
The important part while choosing the mobile phone is its battery. In Thunderbird i5s EX we have built-in Li-on battery with a capacity of below average (1560 mAh). The standby time of this phone is claimed 150-200 hours. The weight of Thunderbird i5s EX is 112 grams.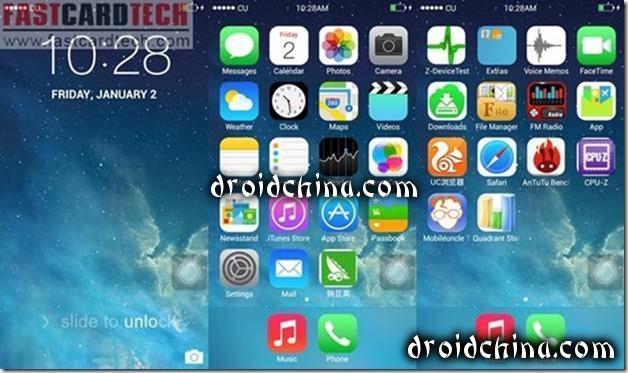 The Thunderbird i5s EX is available in three colors: White, Golden and Black. It does not come with Google Play Store installed, but if you order it from Fastcardtech and request it during your order, they can install it for you before shipping. Current Fastcardtech promotion price is US$149.99
Videos: